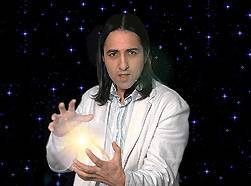 Dr. Rosslan: "Oren Zarif's successful treatments speak for themselves"
"Treatment using the sub-conscious helped me lose weight and helped my mother get rid of the pains in her legs," says anesthesiologist* Dr. Rosslan. "I don't know how Zarif does it, but he manages to help people."
Anesthesiologist Dr. Rosslan Kutz is one of many doctors who have been coming to Oren Zarif over the last few years after finding that conventional medicine has not managed to help them. Dr. Rosslyn and his mother, also a doctor before she retired, came to Zarif for treatment and attest to his success.
"I came to Oren Zarif after hearing about what he does", says Dr. Rosslyn, "and I completed his treatment very satisfied. Oren Zarif helped me lose weight, and I still keep my appointments with him."
"Oren also helped my mother a great deal with her leg pains and excess weight. My mother was in such pain, she had to leave her job, but thanks to Oren, she's feeling so much better now."
How can you explain Oren Zarif's methods
"I have no explanation, but he does help people. Somehow, he gives them energy."

"My kidney stones disappeared!"
Hana arrived at Oren Zarif's clinic with kidney stones, and after only a few treatments her test showed: Her kidney was perfectly clean!
Hana Malcha can't stop thanking Oren Zarif. She went to his clinic a few weeks ago suffering from kidney stones. She relates what happened to her since her first treatment:
"Since my first treatments with Oren, I felt an immediate improvement; I slept better, was more relaxed, in a better mood and good thoughts replaced my bad thoughts…
"After Oren's treatments, I returned to my doctor who had found the kidney stones. He looked at my X-ray and was astounded. He said: Your kidney is completely clean!
"Thank you, Oren Zarif, I am convinced people should visit him, he helps them. I pray that God will help him to continue in his good work!"
Prof. Yona David: "Treatment using the sub-conscious really works!"
"I would advise everyone to go and be treated by Oren Zarif. Thanks to him, I feel terrific", says the renowned Professor from Tel Aviv University.
Professor Yona David, one of the most long-standing and highly respected professors at Tel Aviv University has recently joined the ranks of the supporters of Oren Zarif's treatment using the sub-conscious. Prof. David came to Zarif's clinic to be treated for a problem from which he was suffering. It turns out that he is yet another individual for whom the treatment was successful.
"I came to Oren Zarif for help, and help is what I got", Prof. David assures us. "He can harness powers, and those powers can help people. I have been feeling terrific since I went to Oren, and I would advise everyone to go to him for a check-up and for treatment using the sub-conscious!"
Prof. David is not the only one at Tel Aviv University to feel this way. Prof. Ephraim Eliav, a physicist at the same university took his son to Zarif's clinic with severe leg pains. Oren Zarif treated him for only a few minutes, at which point the miracle occurred. "What Oren did was just phenomenal!" says Prof. Eliav, "the boy was cured within minutes. As a physicist I cannot begin to explain it… I am simply stunned".

Thanks to Oren Zarif I am on my Two Feet and a Growth in my Breast has Disappeared
Yardena feels she owes her life to Oren Zarif, firstly he got her up from her wheel chair and secondly made a growth in her breast disappear.
The story of Yardena Goldfarb will leave you open mouthed. She came to Oren Zarif who treats people through a technique of subconscious three years ago when bound to a wheel chair because of previous cancer illness. " I managed to overcome my cancer illness and since I wanted to walk once more, I came to see Oren". The treatment was long and difficult but the effort was worth it because I can walk again".
This was three years ago.
In April of 2007 I was diagnosed with a growth in my right breast. The doctors at the Hospital advised immediate surgery, but I went to see Oren Zarif once more. I undertook two treatments and then went for a private medical examination where they found that the growth had disappeared. I returned to the hospital and was examined a new. Nothing was found and the doctors were astounded. Since then I am a great admirer of Oren Zarif, and with good reason!.
"Oren Zarif got me out of my wheelchair!"
Ludmilla G. was wheel-chair bound after suffering a stroke. Today she can walk with a stick, and can even climb the stairs.
Ludmilla G., an immigrant from the Soviet Union, suffered a stroke. The episode left her partially paralyzed and in need of a wheel chair to get around and a full-time carer.
After an extensive course of treatment using conventional medicine that failed to stimulate her body, she visited Oren Zarif's clinic, accompanied by her driver.
"The first time we came here", the driver explains, I needed to wheel her out of the house in her wheelchair, help her into the car, help her back into the wheelchair and then push her into the clinic. Now, after a number of treatments, things are completely different".
In the words of Ludmilla and her husband: "Today, thank God, as a result of Oren Zarif's treatment, Ludmilla is back to walking on her own two feet with only a walking stick to help her. She comes here on her own, and can even go up and down stairs!"

"Our chronic colds have disappeared at last, thanks to Oren Zarif"
Ludmilla and Leonid both suffered from a chronic cold and a perpetual cough. After treatment using the subconscious they proclaim: "We're not sick any more, and we're no longer scared of air conditioning!"
Ludmilla and Leonid, a couple from Jerusalem, both suffered from a severe chronic cold and a perpetual cough. "We suffered terribly from the cold, especially when we were in air conditioned offices or buses", they explain. "Whenever we spent time in an air-conditioned place, it immediately made us sick…"
Doctors treated the couple with antibiotics, but there was no improvement in their condition. "We just couldn't stop coughing", they tell us.
When they visited Oren Zarif's clinic in Jerusalem, the first thing he told them was that they were lacking in energy. After a few treatments using the subconscious, there was a complete turn-about in their state of health.
"Now we feel fine. We're not sick any more, and we've stopped coughing", they assure us, "and we're not scared of air-conditioning any more. We're so grateful to Oren."
The couple also give Oren credit for helping them with back ache. "We both suffered from pains in the spine, and Oren's treatment made that go away as well", Ludmilla tells us with a smile.
Mr. and Mrs. Maor: "Oren Zarif saved us!
Doctors decided that Yaffa needed an operation to replace her knee. After treatment at the hands of Oren Zarif, the pains disappeared and the operation was cancelled! Her husband, Shlomo, was suffering from backache and pains in his neck. Zarif managed to cure him as well!
Yaffa and Shlomo Maor, a married couple from Southern Israel, smile happily at each other as they bless Oren Zarif with all their hearts. Zarif treated both of them with treatment using the subconscious – and rescued them from pain and surgery.
Yaffa had been limping around for a long time with pains in her leg. An orthopedic surgeon had sent her for x-rays and had then decided that she needed a knee replacement. "He referred me to Kaplan", Yaffa explains, as she shows us the paperwork.
At the last moment before the operation, Yaffa went to Oren Zarif for a treatment. "I spent 10 minutes with Oren, and walked out a different person," says Yaffa. The pains had gone and the leg was as good as new. I went home and people couldn't believe it when they saw the way I was walking!"
"Before I was treated by Oren Zarif, I had a terrible limp. I'd already asked my husband to get me a wheelchair," Yaffa adds. "It's just unbelievable how Oren saved me from having the surgery, and all that the operation entailed."
Yaffa's husband, Shlomo, agrees with every word. Not only was he a witness to the medical miracle wrought on his wife in front of his eyes, but he himself can attest to another miracle which took place in his own body."
"I had such terrible backache and pains in my neck," Shlomo tells us, "but from the second that Zarif laid his hands on me, everything changed. Now I suffer from only the mildest of aches, and I fully believe that with God's help, Oren will soon have me completely "fixed".
"We are both grateful to Oren from the bottom of our hearts for his help, and would advise everyone to go for his treatments," smile the couple.
Actor Mati Seri: "Oren Zarif gave me faith to believe even in things that are beyond my understanding"
The actor's parents visited Oren Zarif for a treatment. At first Seri was angry, because he didn't believe in his powers. Later, he went to thank Oren in person for the treatment using the subconscious that had solved his mother and father's medical problems.
"All through my life I've been taught to believe only in things that I can understand. However, recent events have caused me to believe even in things that are beyond my comprehension…"
So said well-known actor Mati Seri this week, after his introduction to the secrets of Oren Zarif's treatment using the sub-conscious.
Mati Seri's parents booked an appointment and went for treatment at Oren Zarif's clinic in Jerusalem. He drew up a treatment plan for them and recommended some medicinal herbs. They had their first treatment, booked their next appointment, paid their money and went home.
When their son heard that his parents had been to see Oren Zarif, he was furious. "The world is full of charlatans," he stormed, "and he is bound to be one of them…" His parents tried to persuade him that he was mistaken and that Zarif could honestly help people, but they didn't get anywhere. Mati Seri spoke to Zarif himself and promised to double his fee if his parents' health improved. If, however, Zarif didn't help them, there would be serious consequences.
How amazed Seri was when his father and mother began to report an improvement in their health…
"I came to Oren Zarif a broken man," Eliezer Seri, 83, tells us. "My legs felt heavy. I felt as if I was walking on stones. I could scarcely walk a few dozen meters. After Zarif's treatments, thank God, I can walk so much better."
Mati Seri concludes: "I was very skeptical, but just look how miraculous this is – my father is walking kilometers… yesterday he ran a race with his 16 year old grandson … my mother, who was suffering from curvature of the spine, diabetes, high blood pressure, obesity and more, has suddenly begun losing weight. Her spine has started to straighten out! I don't understand it – but I'm now inclined to believe that Oren Zarif really does have something special…"