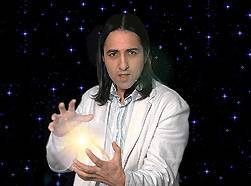 Oren Zarif – The Cure for the Incurable
Ashdod journalist Esti Lauder talks about her meeting with paranormalist Oren Zarif:
"I had the pleasure of meeting Oren when my rabbi, Yitzchak Feld, suggested that I interview him for the newspaper. Rabbi Feld told me that Oren performs good deeds and that he tore up a contract worth millions to locate a mine in Zambia when he found out that the work entailed violating the Sabbath.
"Oren is known to all of the rabbis as a superior figure, and they give him their blessings. When I finally managed to meet with him, he demonstrated his powers to me – I was amazed. He stopped my watch, turned off my telephone without touching it, bent spoons, and told me to think of someone that I want to call me, and that person called! I was in shock.
"I'm amazed each time anew at the problems he's able to solve. Oren Zarif is a person with a big soul who sees nothing but helping others. As far as he's concerned, it's not about business; it's about helping those at the end of their ropes to recover. He uses paranormal powers to do what the doctors can't. He's simply the embodiment of virtue; he performs miracles, and it was a privilege to meet him."

"What Didn't I Try to Help Me Lose Weight?"
Diets, diets: Who hasn't gone on one and then eventually caved in? There are those who last longer, others give up quickly, and yet others use… paranormal powers.
Oren Zarif, in addition to being known as the man who can cure anything, has racked up lots of successes in helping patients with weight loss. L., a Russian immigrant, tells her story:
"What didn't I try in order to lose weight? I went for acupuncture, tried various diets—some of them pretty strange—and nothing helped. Then I found Oren Zarif. He has amazing energy in his hands, and without touching me or my having to move from my seat, I lost 10 kilos in only 40 days. I feel great, and I'm so happy!"

Specialist in Alternative Medicine: Oren Solved My Problem
Shaul Reichani is well-known in the field of alternative medicine who also knows that where neither conventional medicine nor alternative medicine succeed, there's a third option.
Reichani went to see paranormalist Oren Zarif when he was suffering from severe back pain. He believed that Zarif could help him, and he was right.
"Oren completely cured me," says Reichani. "He's one of a kind in the sub-conscious field. I was amazed at how after he touched me, my back straightened out. Where it had hurt, the pain disappeared. I simply feel that I'm in good hands."

"Oren Made Me a New Person"
"Where no doctor succeeded, Oren Zarif saved me and made me a new person." Thus claimed M. A. from the central part of the country, one of many who has benefited from Zarif's paranormal powers.
"I came to Oren with serious neck problems; three of my vertebrae were 'off'," said M. A., "and this was after seeing the best chiropractors and orthopedists. Nothing helped; the pain just got worse. Then Oren managed to immediately diagnose the problem, and after only two treatments, the pain disappeared. In my case, his help was simply wonderful!"
"I suffered from tension and anxiety – until I went to Oren Zarif."
"Many people tried to help me and no one succeeded – only Oren Zarif could do it," we heard from Avi L., who had been suffering from emotional stress, and only started smiling again after treatment using the subconscious.
Oren Zarif can treat almost any kind of problem with treatment using the subconscious, be it physical or psychological. Many people suffering from emotional stress make their way to his clinic and Oren helps them to overcome their problem. Avi L., a resident of central Israel, is one of many whose lives changed for the better within minutes. The minutes during which he met Oren Zarif.
Avi arrived at Oren's clinic and told him how he had been suffering from tension and anxiety. "Many people had tried to help me, and no one had succeeded," Avi explains, "I'd reached the point where I no longer believed that anyone would be able to help."
But Avi was in for a surprise: "Once Oren had examined me and treated me, he advised me that in addition to having the treatment, I should be sleeping on a magnetic mattress, which would exert an influence on my body. I had no hesitation in agreeing instantly, and I have no regrets. My life has changed inconceivably!"
"It's only a month since I first met Oren," says Avi. "I'm already feeling great; I'm back to my normal self and I'm living a happy life and enjoying my family and children. I would advise you all to pay Oren a visit and see with your own eyes the amazing results his treatment achieves."

Treatment using the sub-conscious lowered high blood pressure.
Avraham from Netanya suffered from high blood pressure and headaches. He visited Oren Zarif's clinic – and his problems were solved.
"I feel wonderful, and I'm so grateful to my friends who recommended Oren Zarif to me," says Avraham Kassus from Netanya, who suffered from a number of medical problems that disappeared after his treatment using the sub-conscious.
"I went to the clinic with high blood pressure, pressure in my ears, headaches and problems with blood clotting," Avraham explains, "and after Oren's treatments my blood pressure went down from 165 to 131. What's more, I feel wonderful, life is fantastic, you can't compare how I feel today to the state I was in before!"
In conclusion, Avraham tells us, "God bless Oren Zarif for the way he helps people. Thanks to him, I am now a calm, contented person. Words cannot express my gratitude. I was so lucky to have come here."
Another of Zarif's patients, Yehuda V. from Bnei Brak told us how he had been suffering from depression after having been fired from his job. Yehuda had pains in his chest and his mouth, and had been treated for months with conventional medicine to no effect. Tablets didn't help either. Yehuda heard about Oren Zarif, decided to give him a try and lo and behold, after a few treatments, his condition improved considerably.
"Thanks to Oren Zarif I'm almost completely cured," Yehuda assures us. "Treatment using the sub-conscious managed to achieve what the tablets had not".
Eddie Butler, Israel's representative to the Eurovision states: "Oren Zarif works miracles"
The singer who twice represented Israel in the Eurovision Song Contest, visited the clinic of the practitioner who uses the subconscious – and was amazed by the results
"I came to Oren Zarif for treatment, and was simply amazed. He works miracles." Eddie Butler, the singer who twice represented Israel at the Eurovision Song Contest made this statement, thus joining the long list of celebrities who recommend treatment by Oren Zarif.
Former member of the Eden group (1999) he went solo in the 2006 Eurovision Contest with the song, "This is the Time." Butler is part of the Black Hebrew community of Dimona. He recently heard about Oren Zarif and his use of the subconscious in treating physiological and mental ailments. Butler came to the clinic, told Zarif about his problems, and hoped for assistance. But he never dreamed of such a rapid improvement.
"I was amazed at what Zarif did," Butler relates. "I am so grateful to him for his help, and recommend him highly to everyone. Oren simply works miracles. There's nothing more to say.." he concluded.
Rehabilitated after a severe stroke, thanks to treatments using the sub-conscious.
Doctors did not give Ida Mahlouf any hope of recovery
But her son would not give up, and almost a year ago he brought her by ambulance to Oren Zariffs clinic
A year later she attests: Oren rehabilitated me, I can function again and I feel fantastic!
Oren Zarif does it again. Read the tale of Ida Mahlouf, who happened to be filmed for a TV program by the "Teva Hadvarim" channel, as she arrived at Zariffs clinic at Bnei Brak, about a year ago. Ida was filmed for the TV documentary as she arrived with her son in a private ambulance, lying on a stretcher and barely able to function. Her son was filmed as he spoke of the gradual improvement they had noticed since their last visit to Zarif.
Ida returned to Oren Zarif a number of times for treatments using the subconscious, and the improvement in her condition was amazing. Now, about a year after her stroke, Ida and her son have returned to Zariffs clinic to say thank you again. This time Ida is walking on her own two feet.
Her son tells us: "My mother suffered a very severe stroke, from a blood clot in her brain stem. Doctors had no hope for her, and predicted that she would never function normally again. We didn't despair, and we brought my mother, lying on a stretcher in a private ambulance, to see Oren. With each treatment we felt an improvement in her condition. Her third visit was even filmed for television, And today – thank God, my mother is standing on her own two feet, and is even walking much better. She can use her arm again, her speech has gradually returned and she feels fantastic. thank God for Oren and his wonderful miracles!"
Ida: "Thanks to Oren, I feel great, praise God. Oren is like a son to me".