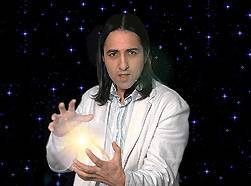 "Oren Zarif is famous as a healer of any ailment, but I couldn't believe that he could relieve me of my pains," said S., 50, who came to Zarif's clinic when suffering from kidney stones.
S. suffered severe pains for six months. "I went to doctors, who sent me for tests, and gave me more pills and medicines," he said. "They reduced the pains a little, but they didn't solve the problem—until I got to Oren Zarif. After only two treatments, the stones disappeared entirely! I wholeheartedly recommend to anyone suffering from any problem that doctors haven't been able to solve to go to him. He's simply a magician."

After Three Years of Failed Fertility Treatments, Larissa's Wish Comes True Thanks to Subconscious Treatments
Larissa, 35, is excited. She's in her seventh month of pregnancy; soon her wish will be fulfilled, and she'll have a daughter. But the road wasn't an easy one; more than once, she despaired of ever having a child.
Larissa tried for years to get pregnant, without success. For the past three years, she has undergone fertility treatments. The doctors found no explanation for why the treatments were not succeeding, writing it off to "internal stress". Larissa had almost given up hope when a relative told her that she'd heard of a healer who uses sub-conscious powers, even to solve fertility problems.
Larissa came to Oren Zarif's clinic. "After just one treatment, I felt my mental stress decrease," she says. "From week to week, I felt like I was progressing toward my goal, and then it happened. After years of despair, I got pregnant, without any treatments. I know it happened thanks to Oren Zarif, who made my dream come true."

Even Professor Amazed
You can't argue with the facts. Zvi, 75, from the center of the country, has suffered from a heart condition for years, and is under constant medical supervision. What he didn't tell the doctors is that he recently decided to go for treatment at the clinic of paranormalist Oren Zarif.
Zvi says, "This week, I did a cardiac echo test at the hospital. The technician, who saw the results, was so surprised that she called in the professor. The professor came in and couldn't believe it; he demanded another test. All of a sudden, he tells me, 'Listen, Zvi. Your condition has improved.' My daughter asked him how he could explain it, and he said that he couldn't.
"What's amazing is that exactly what Oren said would happen, did. His treatment worked. It's a fact that I feel much better. I'm continuing treatment, and I'm certain that I'll ultimately be healthy thanks to Oren's magic touch."

"Thanks to Oren, Now I Can Sleep"
Many patients report a significant improvement in their quality of life following a visit to Oren Zarif's clinic. The reported improvements are manifested in improved mood, relief from pains, and even better sleep.
A good example of Zarif's success is B., 50, who came to Zarif complaining of severe headaches whose source was unknown. "It reached a point where I couldn't sleep," said B. "The minute I'd lay my head on the pillow, I'd feel a sharp pain and hear a buzzing in my ears. Even when I'd finally fall asleep out of pure exhaustion, I'd wake up in unbearable pain."
And how does B. feel after just one treatment by Zarif? "There's no comparison with how I was before," she says. "After being treated by Oren, I feel much better. I'm already experiencing less pain, particularly on the right side of my head, and the constant buzzing disappeared. Today I came in for my second treatment, and I believe that he'll succeed in curing me completely."
"Oren Zarif is Worth a Thousand Doctors"
Paralyzed? Don't despair. That's what Avi, a former police officer learned after he was injured in a road accident while riding cross-country on his motorcycle. His left arm and leg were paralyzed.
"The doctors, poor folks, didn't know what to do, so they gave me pills and more pills," said Avi. "Then seven months ago, I opened the newspaper and saw an ad about a woman who had come all the way from France with a paralyzed arm, and Oren Zarif cured her. I told myself that I had to see him. And indeed, after my first treatment, I felt for the first time since I was injured that someone was helping me."
As early as the first treatment, Avi felt his arm and leg gradually loosening up. From treatment to treatment, he began to feel that he was able to do more and more.
"I had a non-functioning arm, and today, thanks to Oren, my arm moves and functions. My conclusion is: Don't throw in the towel. With the right treatment by this wonderful guy, anything is possible. You have to believe, you have to have the fighting spirit, and you need the right practitioner—and it appears that Oren Zarif is worth a thousand doctors," concluded Avi.

"Oren Saved My Arm"
As we know, "You have friends at Egged", and now it appears that it's good to have friends at Egged…
Avraham, 50, from Ramat Gan, came to Oren Zarif on the recommendation of his brother, an Egged employee, who told Avraham that many Egged drivers are Zarif's patients.
Avraham's left arm was paralyzed following a stroke. In addition, when he walked, he felt that his body leaned to the left.
The doctors told Avraham that there wasn't much they could do, but he didn't despair; instead he followed his brother's advice.
"I believed that Oren would help me," said Avraham, "and I met others at his clinic with problems similar to mine whom he had helped. Indeed, Zarif treated me mainly on my head, and I felt significant improvement in my arm. From treatment to treatment, my arm loosened up, and today it's functioning. He saved my arm."
More proof that it's good to have friends…
"Thanks to Oren, Soon I'll Be Able to Rise From My Wheelchair"
M., 20, regrets the day she got on the all-terrain vehicle; the decision cost her dearly: The ATV turned over, leaving M. seriously injured. Her spinal column sustained a blow, and her spinal cord was crushed.
M. was left paralyzed from the chest down, a T5 injury classification.
At this early age, M. was confined to a wheelchair; her mother supports her and is always by her side. Alongside conventional treatment, mother and daughter decided to visit Oren Zarif's clinic. Since then, says M., she's undergone a huge improvement.
"If it hadn't been for Oren, I would've lost hope long ago," she said. "Today I wouldn't trade him for anything. Since I've been in his care, with every passing week I feel changes for the better." Her mother nods her agreement. "Every week she comes home from her treatment relaxed and in a good mood," she said.
"With God's help," said M., "I believe that soon Oren will succeed in getting me to stand and I'll walk home from his clinic."
"When I Got to Oren, I Was a Mess – I Left With a Smile on My Face"
"Oren Zarif gave me back my life!" That's how N., from the Southern part of the country, puts it. N. went to see paranormalist Zarif following a crisis.
"I was depressed; I was a wreck; I wasn't enjoying life," says N. "In a series of treatments, Oren succeeded in freeing me, and today I feel completely different. I have energy and I'm happy with life. Oren is simply an angel who put the smile back on my face."